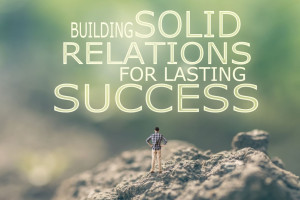 A Bit of Brilliance!
Before we get in any commitment with someone else we need to build a relationship. Think about getting married. You meet the person. You have coffee or lunch. You go out on a few dates. Your relationship deepens and you and your significant other become more involved. Over time the relationship if it is a good match will lead to a deeper commitment. With each step closer you and the other person makes, there is more of an investment with each other. This is also true when it comes to nurture relationships within business. Your clients and potential clients want to get to know you first before they go all in. There are many ways you can support the getting to know you stage at the free or low cost level. Your freebie/opt-in for your email list. Video trainings. 1-1 discover/strategy/intake sessions (whatever you want to call them). I connect with people on social media and reach out to them inviting them to join this group and/or grab lunch/coffee. This week take a look at what are some of the ways you deepen and build relationships, commitment, and influence that invites your people to spend more time (and money) with you.
I would love to hear what are some of the ways you engage with others to build a relationship. Please chime in below.
Here's to you and your business's brilliance!
-Mellissa Rempfer